Citizen Band radio is a public 2-way radio system, and in most countries, there is no need for any license for CB operations for personal and business communication.
You may have bought an affordable or costly CB radio model for your use. However, the maximum output from all those units is not different from each other. While you try to enhance your CB radio power, you have to buy an antenna. The strength and size of these antennas cause a variation in the power of transmission.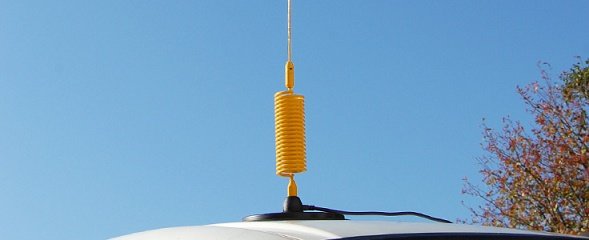 Your major goal should be to select the right antenna, which suits the application. The performance of CB radio depends mainly on the installation technique and the chosen antenna.
CB antennas are of two categories- base and mobile unit. The base antenna is intended to be used with any base system, and thus, it has to stay stationary. As it remains still, it may be the bigger one. Beam, stick, and pole are the major types, included under base antennas.
However, for the mobile system, there are 2 groups- whip and hustler twin. Whip is manufactured with stainless steel or fiberglass, while another one has a coil, loaded at the center. They have two detached antennas, working together. Their signaling strength is also good, and most of the truckers prefer them.
Why you should buy antenna for CB radio:
CB radios work over the bandwidth of about 27 MHz and they can have accessibility to forty channels. In order to have smoother and more effective functioning of these radios, there is a need of antenna.
The original output from these radios may be maximum four watts. So, antennas are most helpful tools to increase transceiver range and power. But, the best antenna to improve transmitting ability of a radio.
The radio antenna enables you in communicating over a very large distance, and so, during emergency time, you will get benefit from this antenna. You may contact with any person in the area with good clarity of sound.
While purchasing this antenna, you have to consider some important factors
The location for mounting the system:
You can mount the CB antenna on the car's roof, mirror bar, and bumper. For every mounting site, you will get various advantages. To choose this location, you have to consider the way of using the radio and the car, where you have to mount the system. The most important fact is that while you have a mounted antenna at a higher site, you will enjoy better performance. However, the mount should be grounded securely to the chassis of your automobile. For RVs or other similar vehicles, there is another good option- A no-ground plane.
Length of antenna:
With a longer antenna, there can be more effective. The users have to rely on the longest one, which meets their needs. You may also find various accessories, which help with the fastest disconnection of the antenna. It is useful while you are accessing a parking area.
Type of coil:
We can categorize the antennas, considering the site, where you have to position the coil. As the function of the antenna varies due to its diverse length, it is not a good idea to mount a longer antenna for every vehicle. That is why the coiled wire is useful for making the adjustment. Antenna manufacturers wrap up the wire around its shaft for creating a coil. So, the antenna size becomes shorter. However, it can lose a part of its efficiency. That is why placement of the antenna at the right site is always essential.
Mount size:
Your chosen antenna should go with mount. This mount keeps your antenna safe.
Quality of antennas-
You have to purchase well-designed antennas that are made of resilient elements. As the antennas remain in contact with your car, you should buy the most reliable one.
Frequency Bandwidth-
The best standard CB radio antennas help you in interacting with others over lots of channels. With higher bandwidth, you will find an increasing number of channels.
Power management-
With more wattage handled by antennas, you will get a clearer signal. Location is also an important factor to obtain signals. But, the inherent power of antenna should be your major focus. Lots of buyers choose dual CB antenna in order to have more wattage or power.
Now, let us have a look at the various types of antennas, available in the market, for your CB radios.
You also like: How to Tune Your CB Radio Antenna
Types Of CB Antennas
Magnet Mount-
While you have SUVs and Pickups, you can look for Wilson 1000 Series mount (3000W) is the right option. If the surrounding environment is good, then you may enjoy a range of seven miles. When you find that there is an issue of clearance, you have to adjust magnetic base. You may just place it on the fender. The best fact about this CB antenna is that this is highly flexible and has higher range. This is a comprehensive system, which includes whip, base, coax and all other essential things. Moreover, there is no need to create a hole with your driller.
You can find a variation in the receiving and transmitting range due to the conditions or some other factors. For 3' antennas, it can be three to four miles, while for 5' ones, it is almost five to six miles. An easy installation process is also a good option to the users. You may buy it for your metal-roofed vehicle. However, cosmetic issue is one of the downsides of this antenna. The wire will run across the vehicle's roof. The whip is also thinner. When anything hits this whip, the system can get twisted. Thus, there is a risk of breakage with this antenna.
Wilson 1000 offers you bigger antenna. However, it is better in its performance. Set up on the rooftop, its range covers almost five to seven miles with favorable conditions. You may also remove the whip for better clearance, while the coax and the magnetic base remain attached. Wilson Little Wil is also an affordable option for users.
Glass mount CB antenna-
You need to mount this antenna to a vehicle window. This mount is permanent, and you must not install it to the glass, which has rolled down. It is a short-sized antenna and its look is like the mobile phone receiver or antenna. You have to set this antenna on the outer side, and the tape should be on two sides. Moreover, you shouldn't mount this antenna over a metallic layer. Due to the short size and loss of signaling strength, this antenna may not perform well. However, it will offer you any solution, while the other alternative mounting process is not much acceptable to you. For fiberglass boats and vehicles, you can choose these antennas.
Mirror mount CB antenna- For big-sized trucks, this antenna is to be fitted to the bracket. This bracket should be of metal and not plastic. Moreover, the clamp of your antenna needs to remain grounded to your car. While there is a fiberglass door, you should run the wire into your clamp. The wire size may be twelve gauges, and you have to connect it to the closest chassis point. The hinge of the door is the best site for you.
Gutter mount CB antenna- While you have a rain guttering system above a door, you have to set up this antenna. However, most of the latest vehicles do not have these gutters for the improvement of aerodynamics. Just after you have mounted it, the cable gets into your car. You may also bring in the cable through your car window.
Hood mount- In this case, the antenna should be positioned at a hood's edge with the use of a bracket. The bracket must remain the space between a fender and hood. The fiberglass-made CB antenna works best with such type of mount.
Fender antenna mount – Use ball mounting system that enables you in rotating your antenna for presenting a vertical position. Drill a hole on fender, and you can use steel or fiberglass whip for this system.
Bumper mount– For those, who like to install longer whips, may prefer this option. In this case also, you have to consider drilling a hole. However, installation of bumper mounts may be tougher for the cars, which have plastic-made bumpers.
102″ Whip CB Antenna– When your major target is only the range, this type of antenna is right for you. With the right installation, its range covers more than ten miles. For towing RV occasionally, 102″ whip of your antenna may be bigger than any travel truck. You have to mount it on the car's front fender.
This 102″ whip has gained the attention of lots of users due to its incomparable performance. This is also more affordable for its unique size. It is cheaper than center-loaded antennas. The positive feature of this antenna is that it is a very simple system with good range. The antenna reaches almost 8ft above the mount. However, though its performance is incredible, it is much weighty, and thus, you may need to pay for a durable mount for holding it.
In open space, this antenna is convenient. However, while you are accessing a forest, it will not perform in the best way.
Fiberglass CB Antennas– The length of these antennas may vary from twenty four to sixty inches. The manufacturers use fiberglass rod for designing these antennas. They are not only durable but also affordable. Antenna wire is present along outer side beneath the plastic cover. The coil of this antenna system is present at the top portion.
For 2′ antennas, the range is two to three miles, for 3', it is three to four miles, for 4', it is four to six miles, and for 5', it is five to seven miles. As these antennas use any type of mount unit, they can be installed at any place on the car. For having a better aesthetic look, you can pick one, which goes best with your vehicle model.
You can choose the mid portion of the vehicle's top as the mounting site. However, still, you may buy the longer antenna for having the coil. This makes sure you will enjoy better performance. One of the demerits is that these antennas are not much powerful, like the other models. Thus, you have to purchase coax and mount separately.
Considering the loading position, we may categorize the antennas in various ways-
Base loaded
While you have chosen base loaded CB radio antenna, you can find that the coil has enclosed the bottom part of antenna design. In many cases, the room Citizen Band antenna and magnetic mount are loaded at the base. They offer an easy mounting system and also have very thick coil. The capacity of these systems is higher. The major demerit is that the good positions for mounting are very limited as their coil should remain above your car. The notable advantage is that they will not get damaged easily, while hitting any object.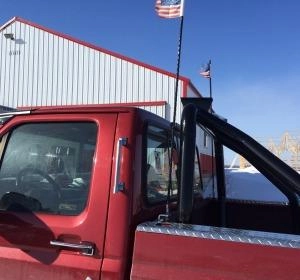 Trucker CB Antennas– These are also called as Center Loaded antennas as the load or coil of this system lies at the center. This one also offers a range of almost ten miles. The truckers like to choose these antennas. The thick shaft is designed with stainless steel, and it creates a part of the base. Its coil is above the shaft, which has plastic cover. Rest of your antenna includes thinner and longer whip. Now, while you have considered its performance, you will surely find a good output. The vehicle operators can set them at a high site, see top 4 best CB Radio for Truck Drivers in 2018.
However, the users with right budget may not like these costly trucker CB antennas. The risk of damage is also higher with these antennas. The plastic-made coil can get damaged, while the metal part at the lower side may get bent. However, still, if you prefer this product, you can choose Wilson 2000 or Wilson 5000.
Top-loaded antennas
We have already talked about mobile antennas, and these are the top-loaded models for the users. In most cases, fiberglass is the common material, used for these antennas. Tin-made coils remain in wrapped position around it and there is also a protective layer. For the reasonable price, these top-loaded ones are highly popular. You have also lots of options for mounting them. The coil has its position high on radio antenna. However, the capacity is slightly lower. You can find the application of these antennas in the trucks, cars, RVs and tractor-trailers. The best brands offer such antenna, which does not need any cutting or modification.
No Ground Plane
To understand signaling strength, Ground plane plays an important role. While the antenna is positioned on the metal roofing surface, the overall roof presents the plane. From your antenna, this signal moves to the down and strikes the plane. However, when this antenna has been installed at the back, front signal can be very effective. You may have no metal roof, and you look for the better propagation. In this case, NGP is the right antenna option.
The ground, essential for your needs, is integrated to a coax wire, and there is no need of any ground from external side. NGP antennas can lose fifteen to twenty percent of the strength.
CB antenna's electrical ground– Electrical ground differs from a ground plane, and an antenna should have both these things. A mount to which the antenna gets linked must have considerable ground. In case of metal-made mounts, you can get it by having one metal contact with another. While there is no acceptable group, it is better to scrape off the paint at the site, where the car contacts your mount. You can use a strap from chassis to this mount. However, this strap should be shorter in size. While you are using a magnet mount, you would have this ground after coupling magnet with vehicle's metal. Remember that grounding is not an issue with the best quality mounts.
Dual antennas- Are they the right option for you?
You can call it a co-phased CB antennas, and most pickup truck owners prefer this option. Higher performance and better look- these are two major reasons for choosing these antennas. With the use of a mirror mount, you can mount it. Its configuration helps you with improved rear and front ranges. The side range will get lowered. To accomplish the process of co-phasing in the right way, you have to install the antennas at a distance of nine feet. That is why you may use it only in the big trucks. The smaller vehicles are so narrow that you cannot maintain the spacing.
Verdict
To conclude, we can say that for lots of safety and practical benefits, CB radio antennas are the right option. The durable and powerful antennas enhance the effectiveness and functioning of your radio. There are antennas of various ranges and styles, and so, you have to choose one, which work best for your CB radio.