Disclosure: As an Amazon Associate I earn from qualifying purchases. This means that at no cost to you, we may earn a small commission for qualifying purchases.
So, you are ready to go off the grid, camping out in the countryside – no internet, mobile network, and electricity, you are excited but also scared. You trust yourself to maintain your sanity without checking your phone for a few days, but can we all agree that being off the grid without any news is implausible? Having one working system to connect you to the rest of the world makes sense, right?
Well, you have to have a shortwave radio and being away from civilization, investing in poor quality or the cheapest available shortwave radio is out of the question. But, there's one huge problem: finding the best shortwave radio on a market which presents new models of shortwave radios all the time.
Top 5 Best shortwave Radio Reviews
If you are caught in the mayhem of shortwave radio models that differ or bear seemingly similar functions, features, or the ones that can transmit at specific transmission ranges, we've got you. This article is a shortwave radio review of the 5 best radios, as well as a guide to the best radio.
You may like: Top 5 Best Emergency Radios in 2021
Tecsun PL880 Portable
Make your next trip out of town memorable with this Tecsun PL880, a shortwave radio that offers full-range coverage comprising of Longwave and Shortwave, AM/FM, and a single sideband (SSB).
It offers unparalleled bandwidth selectivity and radio reception sensitivity with its PLL synthesized digital dual conversion receiver. It is 4 and 5 selectable bandwidth filters available respectively on AM and SSB, as well as the SSB receiver with the 10Hz tuning step promises the best transmission and reception away from civilization.
You might also like its single 18650 Li-ion rechargeable battery that comes with an inbuilt charger. These keep you connected throughout. Yes, it comes with the battery.
And, you won't have to guess what time it is thanks to the 24-hour alarm clock and the sleep-timer that lasts between 0-120 minutes.
It boasts an external shortwave antenna that increases reception, a carrying pouch to secure it in the rugged environments (it only weighs 1.15lbs), stereo earphones to keep you entertained at night, and user manual to guide first-time users.
Things We Liked about Tecsun PL880:
It comes with stereo earphones
Lightweight and its carrying pouch increases the portability
Li-Ion batteries are long-lasting
It's incredibly clear
You can control the backlight
Easy tuning
Things We Didn't Like about Tecsun PL880:
Its noisy on SW
No reception on SSB SW
It's sensitive to AC noises
Check it out here!
Tecsun Radio PL-380 DPS
If you are looking for a small size radio that receives FM stereo, longwave, AM, and shortwave, one that is easy to operate and is multifunctional, you might want to try this Tecsun Radion PL-380.
Its wide FM receiver frequency ranges from 64-08Hz. It contains part of the campus radio, and it also has 2-5 channel TV sound programs.
Among its other excellent features is the 7-method selection set including the Easy Tuning (ETM), Manual search for saved stations (VM), a manual search for radio frequency (VF), and the direct input frequency or the number of radio addresses into the pre-existing numbers directly.
You might also like that this radio may be manual, fully automatic, or semi-automatic. And, it stores upwards of 550 radio frequencies in FM, LM, or MW.
There's also the multi-function display for radio frequency, temperature, signal strength/ noise ratio, and battery power among others.
It has a 30-rotational/ electronic volume control, and it has the optimum design for thin-film and high sensitive speakers. You can use headphones to listen to stereo FM radio. T
Things We Liked about Tecsun PL-380:
Preset auto timer for automatic shutdown
Smart power switch
Energy saving thanks to its 3 R6 (V) batteries.
Its scanner works well
Large LCD screen
Durable design
Clear and strong FM signal.
Portable
Things We Didn't Like about Tecsun PL-380:
It doesn't pick shortwaves
No wall-plug.
Check it out here!
Eton Grundig Satellit 750 Ultimate
This is a robust radio with AM, FM, Shortwave and Aircraft bands. It's set with 9/10 KHz AM tuning, and you can set a wide FM tuning range. It also features an SSB and the 360-degree rotating AM antenna.
You might also like its 1000 station memories, its dual alarm function, the line-in socket that allows for the use of the radio as an MP3 speaker, and its auto tuning storage function for AM/ FM/ and shortwave. Its external antenna can support AM and FM.
There's also the DSP technology which enhances the sensitivity of tuning while fielding out interference.
Things We Liked about Satellit 750:
High-quality and competitively priced radio
Works well on SSB and all other bands
It works well
Clear reception
Things We Didn't Like about Satellit 750:
The display screen is small, and it has little lighting
The volume knob is not located well.
Check it out here!
Kaito KA500 5-way
Your search for the best shortwave radio for use in the mountains or at sea easily ends with this high-performance, durable, and reliable Kaito radio. It is a 6-way powered portable radio for emergencies. It features a hand crank generator, a solar panel, as well as a compartment for 3AA batteries.
This Kaito radio also has a 5V USB input, a 5V AC/DC input though sold separately, and a built-in NiMH rechargeable and replaceable battery pack. These features ensure that you are connected regardless of your location.
Its comprehensive coverage and preprogrammed NOAA weather channels will keep you entertained in contact with the rest of the world throughout. Kaito KA500 radio also connects to the real-time weather forecast and also with PEAS – the Public Emergency Alert System.
The best part is that it works as an emergency battery for smartphones, digital cameras, and GPS units, among others. Also included are a 5-LED reading lamp, a LED flashlight, and a red SOS beacon light.
Its telescopic antenna extends as high as 14.5" increasing its sensitivity. The antenna boasts an advanced semiconductor circuitry-design and an LED signal strength indicator that pinpoints tuning accuracy.
Things We Liked about Kaito KA500:
Sensitive antenna for great reception
Durable thanks to the design with water and impact-resistant ABS material
Works indoors and outdoors
It's a communication and power device
Connects to NOAA weather channels
Can be powered with electricity, using batteries, or using the solar panel.
Things We Didn't Like about Kaito KA500:
The solar panel doesn't charge as fast as you'd want it to
SW reception has a few issues.
Check it out here!
Sony ICF-SW7600GR AM/FM
This Sony ICF-SW7600GR features a PLL digital tuner that receives AM/MW, FM, shortwave and longwave bands. It has a MY-Memory tuning feature that will memorize and scan up to 100 frequencies.
It's simple to use thanks to its four tuning methods: direct, scan, manual, and preset, as well as its label preset that has 6 alphanumeric letters. Its world clock, the dual clock functions, and the built-in timer will keep you on time.
Things We Liked about Sony ICF-SW7600GR:
Headphone jack for private listening
Has built-in and telescopic antennas
Its hold button prevents accidental change to preset stations
LCD display for enhanced readability
Good for shortwave listening
Very selective and sensitive
Frequency stability
Things We Didn't Like about Sony ICF-SW7600GR:
The sound could be better
Lacks an external power supply
Check it out here!
Things to Consider Before Buying a Shortwave Radio
As mentioned above, finding the best shortwave radio amidst hundreds of models is confusing and frustrating. We promise to simplify your search with an outline of the features and elements that make the best radios.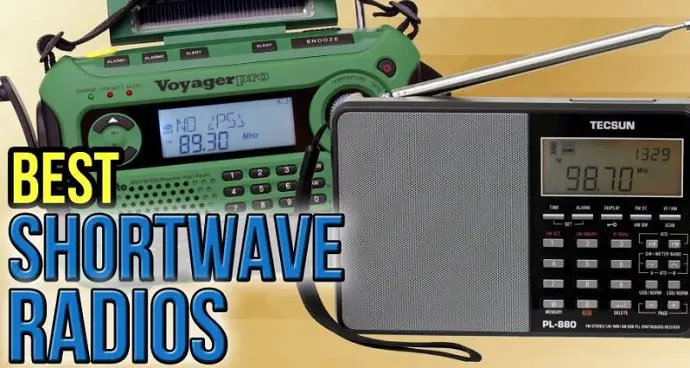 But first, why can't you rely on the high-frequency broadcasts? They do not travel beyond 40 miles, and they travel in rather straight lines. If you are traveling for a short distance, then the high-frequency broadcast on your car will work, and you may access all your favorite radio stations. However, if you are traveling for longer distances, you can only receive radio communications with a shortwave radio which will receive transmissions even at low frequencies which can pass through and across vast distances. Shortwave radio is an essential part of your emergency preparedness kit and is common with the military, survivalists, and outdoor enthusiasts or researchers.
So what do you look for in a shortwave radio?
Radio Reception Sensitivity
A radio's sensitivity provides strong signals even in suboptimal conditions. However, the receiver's sensitivity depends on various technical elements like the signal to noise ratio of your electronics or the noise performance. A sensitive radio can broadcast weak signals because it has a greater level of radio wave discrimination.
Bandwidth selectivity
Regarding the bandwidth selectivity, know that some receivers let you choose between the wide and narrow selectivity bandwidths. With a narrow bandwidth, you can reduce the interference occurring from incoming broadcasts on the adjacent frequencies. Unfortunately, this has one major caveat – relying on narrow bandwidths lowers the quality of the audio received.
The Design of the radio and its antenna
A radio with an external antenna lets you adjust the connection for a clear reception whole the built-in antenna lets you listen to major radio stations. If you'll be out in the wild, an external antenna is preferable to a built-in antenna. And speaking of the radio's design, choose a lightweight and portable one over bigger and immobile radios.
Note that the design of the radio should be durable especially if you'll be moving around a lot.
Coverage frequency
Most shortwave radios will pick transmissions from 0.5 to 30Hz, but the best radios have a frequency coverage range of between 1.6 and 50Hz.
The most common band allocations include the FM bands, AM bands, Amateur radio, Aircraft frequencies, Longwave bands, International commercials, and Coastal stations.
Conclusion
Five words: clarity, sensitivity, selectivity, battery-life, frequency range, and ease-of-use. These things should be on top of your list when searching for the best shortwave radio. Without these, it won't matter if yours is the most expensive radio or not. You need a radio worth your money, that radio has all the above features.