Disclosure: As an Amazon Associate I earn from qualifying purchases. This means that at no cost to you, we may earn a small commission for qualifying purchases.
Uniden's newest addition to its product catalog, Bearcat 880 is all you have been looking for and then some. This renowned Bearcat brand of CB radios promises to end your struggles with transmission and reception quality, nighttime use, and it has a host of features that keep you connected, entertained and informed of everything happening around and ahead of you.
It not only looks stylishly gorgeous but also has immense power combined with a ruggedness that makes this the ideal CB Radio for the outdoorsy type.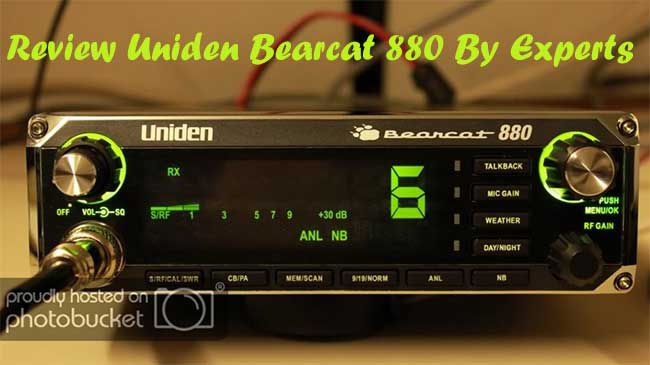 After conducting extensive research on CB radios, listening to other users and trying different brands and models of CB radios, we are convinced that Uniden Bearcat 800 is one of the best CB radios out there. Here is a comprehensive review of all that this radio has in store for you:
Review Bearcat 880 CB radio, 7-Color backlighting with dimmer
Review on Amazon
If you have used a Uniden CB radio before, you know that the models by the brand are among the best. While imperfect in some aspects, they triumph most other brands in features and functionality.
Manufactured by the renowned Uniden, this model combines a great deal of power, functional features, and ruggedness that makes this radio sturdy and functional. Its design makes this radio an ideal fit for this century, and you don't have to worry about looking like you just walked out of the 70s.
Pros of Bearcat 880
Compatible with the wireless Uniden mic.
Dynamic squelch control, ANL, and NB for clear signals.
Noise cancellation mic enhances the transmission clarity.
Simple and compact design and it's easy to mount on any vehicle.
7-color backlight for readability and easy viewing.
The emergency channel is easily accessible.
Has a channel scan feature.
You get live weather updates.
Display control with day and night modes.
Cons of Bearcat 880
It cannot be modded.
You cannot turn off the beep sound while switching channels or pressing the keys.
The screen scratches easily.
The internal speakers aren't the best at a high volume.
Key Features of BEARCAT 880 CB Radio
7-Color backlighting with dimmer.
Extra-long 6-Pin noise canceling microphone.
Wireless microphone compatible.
Digital SWR/SRF meter.
Access to all the 40 FCC-approved channels, as well as the NOAA weather channel and the 9/19 emergency channel.
Laser etched keys.
Memory channel scan.
RF Gain and Squelch control.
ANL/NB.
Radio diagnostics and talk back.
Verdict
This CB radio is priced right for its features, and it makes an excellent companion for long-distance and night drivers. It also one of the best long-range transmission CB radios on the market.
Who is this Product for?
This is the ideal CB radio for night drivers and serious CB users looking for a stylish feature-packed and highly functional radio.
Its advanced backlighting system and the customizable digital display make it an ideal fit for any serious night drivers.
It enhances safety, and it's great for weather and CB radio communications monitoring.
Check it out here!
Key Features and Benefits
1. Channels' Accessibility
One of the most attractive features of this Bearcat 880 CB radio is that it gives you access to all the 40 FCC-approved channels with the highest possible reception clarity, strong transmission, and a high-quality range. With access to these channels, you don't have to worry about missing important information or communications.
Uniden BC880 also has access to the NOAA weather channel keeping you informed on the varying weather conditions. It also gives you access to live updates in the event of severe weather. It also has a channel scan feature.
Other than NOAA, the CB radio also connects you to Channel 9/19 instantly for emergency access.
2. Backlit display
As a night driver, you need a CB radio you can control and use easily in the night for information and safety. Uniden's Bearcat 880 makes that possible with its 7-backlit color options that you can customize for your radio.
The color display is not all about aesthetics but a way of ensuring that you are easily connected to a channel like an emergency channel in the middle of the night if in trouble. Backlighting makes it easy to read the details on the display screen.
Can you control the brightness? Yes, it comes with a day and night brightness control. The dimmer switch lets you change the display light's intensity from day to night
The backlit display also comes with TX/RX indicators and a prominent S/RF/SWR digital meter that allows you to tune the radio with hassle-free.
You can read and adjust the radio while still focusing on the road.
3. Power
It boasts a 4-watt transmission power. This is what you need to connect to channels far and wide.
4. Noise cancellation and clear reception
As mentioned above, you can expect clear transmissions and reception when using this radio. The clarity comes from the powerful transmission power and the blanket/ noise filter. The latter reduces the background noises.
It also boasts a 6-pin noise-canceling microphone which enhances the quality of sound at the end of the line for the person you are talking to. So, you get to enjoy static-free and clear communication.
Other features fitted in the 880 to control the quality of sound include the dynamic squelch control, and the Hi/Lo Mic gain control.
The Noise Blanker and the Automatic Noise Limiter (NB/ANL) noise reduction feature reduces interference or any unwanted static from different sources.
5. Antenna Compatibility
A CB radio is another piece of junk without an antenna. For this reason and the fact that you may have to buy a different antenna if the first one breaks, Uniden's 880 is compatible with all CB antennas available on the market.
Its cable utilizes the standard CB PL-259 connection. The 880 mounts with the "U" mounting bracket on any flat surface.
6. Microphone
This radio is compatible with the wireless CB microphone recently unleashed by Uniden. So, if you need more freedom, this mic's got you!
7. Ease of use
Fitted with a radio diagnostics feature, you can resolve most issues with little effort. It also has an easy-to-read laser etched keys, as well as a 6-4 pin microphone adapter.
8. Public Address
It has a public address system for communication with many people outdoors. The radio output of 6 and 4 watts for SSB and they can be modified.
You can also mount the radio, and so it works well when you have limited space. The extra-long mic cord lets you operate the radio away from where it's mounted. The wireless mic option will also work here.
While it boasts several features, it lacks when it comes to mods. This Uniden Bearcat 880 cannot be modded.
Check it out here!
Customer Reviews
Best CB for the Money :
"While this CB radio's backlighting lacks when used under direct sunlight, it's the best CB radio giving you full value for money. Its setup is effortless, especially once you are familiar with its options. A suggestion: tune the antenna manually before using the auto-tune feature then after reaching an acceptable SWR level, complete the auto-tuning steps. You should see near-perfect SWR readings after you install all the system's quality components." Bill
"I would buy another without hesitation. Though it's not mod-able, it's a fine CB radio with a basic AM/SSB. Great reception." Jeremy
"Two Uniden Bearcat 880s later, and I can say that these radios have a great noise filtration system. My only issue is that the backlighting is poor during the day and you can barely read the settings in full light." Mike
Read more customer reviews
FAQ & Additional Tips
Mobile installation
First, plan the location of your transceiver and the microphone bracket before installation
Select a convenient location that will not interfere with the passenger or the driver
Install the bracket using the self-tapping screws provided
Connect the power cords
Attach your microphone bracket to the car dash or the side of the radio.
Attach your CB radio to the bracket.
Running Diagnostics
Press the MENU/OK to activate menus
Turn the channel selector until DIAG is displayed
Press the MENU/OK Key to enter the DIAG level. From the DIAG level, you can check for antenna mismatches, power levels, or the RF power levels.
Maintenance Bearcat 880
Every 6 months, check the SWR, ensure that all the electrical components are tight, inspect the coaxial antenna cable for breaks or wear in the shielding, and ensure that all the mounting hardware and screws are tight.
Note that the radio is meant to give you trouble-free service and that it doesn't have any serviceable parts inside so, it doesn't require maintenance except for the replacement of the inline fuse located in the fuse holders of its DC power cord.
Compare Bearcat 880 with other CB radios.
Bellow you can see a compare table beetween BC 880 with other cb radios on the market.
| Functions | BEARCAT 880 | PRO401HH | PRO505XL | Uniden PC68LTX |
| --- | --- | --- | --- | --- |
| Microphone | ✓ | | | ✓ |
| Instant Channel 9 | ✓ | | ✓ | ✓ |
| Analog S/RF Meter | ✓ | | Signal/RF Power Indicator | ✓ |
| Weather Alert | NOAA Weather Radio | | | |
| Standing Wave Ratio | ✓ | | | |
| Wireless Mic Compatible | ✓ | | | |
| Handheld CB Radio | ✓ | ✓ | | ✓ |
| PA Function | ✓ | | ✓ | ✓ |
You may like: Best Handheld CB Radios Of 2018
Final Verdict
Review on Amazon
If you are on the market for the best long-range transmission CB radios, this Uniden Bearcat 800 might be your perfect fit, especially if you are a long-distance night driver/ traveler.
Its 7-color backlit display and laser etched keys enhance its readability, and you can configure it for night and day use. It's easy to mount on the car thanks to its small and compact design.
And, thanks to its noise cancellation, interference reduction, and signal clarity features, you can expect great transmission from all the 40 FCC-approved channels, the weather channel and the emergency channel. It also boasts effortless control systems and diagnostics.
Although this CB radio cannot be modded, it is one of the best on the market and gives you value for your money.
Check it out here!