Disclosure: As an Amazon Associate I earn from qualifying purchases. This means that at no cost to you, we may earn a small commission for qualifying purchases.
Stryker SR 497HPC Review: Should You Buy This CB Radio or Stay Away From It?
Are you looking for a powerful CB radio, but you don't feel like spending too much cash on such a device? Well, I might have a solution for you – Stryker SR 497HPC seems like your perfect choice. Don't trust me? Then make sure to read this Stryker SR 497HPC review untill the very end!
Stryker SR 497HPC Review
Review on Amazon
Released a few years ago, Stryker SR 497HPC came into existence as a result of the manufacturer's wish to create a two-way radio that will be super-powerful, yet not costing too much. It is needless to say that Stryker did a really good job.
You may like: [2021] Stryker SR-955HPC – All the Features You'll Ever Need from a CB Radio
The result is actually pretty impressive; Stryker SR 497HPC is a top-quality device that can ensure a stable communication on the radio band of 10 meters. Of course, if you're familiar with Stryker, you probably weren't expecting anything less from this manufacturer.
More about Stryker
This manufacturer is famous for their 10-meter radios, which are made of top-quality materials. This makes them sturdy and durable. In fact, Stryker CB radios are famously long-lasting. This means that once you buy one of their radios, you won't get in a need for another one in many, many years.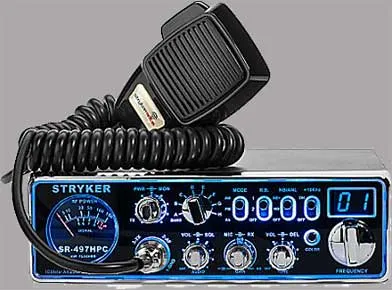 Some would think that the fact that a radio is super-durable means that it's also pretty pricey.  Well, that's true in most cases, but not when it comes to Stryker products. So, if you're looking for a reliable CB radio, feel free pick anyone from Stryker's collection.
Still, if you want my recommendation, I say go with Stryker SR 497HPC! To help you understand why buying this device would be the right thing to do, here are some of its main features!
Main Features of Stryker SR 497HPC
LED channel display with adjustable colors.
Final transistor with a high power.
Two different sounds of roger beeps.
Quality AM regulator.
Digital echo feature.
Talk-back control.
Adjustable power control.
These are just some of the features of Stryker SR 497HPC, which I listed there just to show you how awesome this product actually is. If you're still not convinced that you should buy it, here are some pros & cons of this CB radio.
Pros and Cons of Cobra 18WXSTII:
Pros of Buying Stryker SR 497HPC
Affordable price, considering the quality of the product.
Very powerful (over 90 watts PEP).
Easy to use and mount.
Full of super-useful features (as you can see in the list above).
Cons of Stryker SR 497HPC
Stryker isn't giving a full warranty on this product.
Check it out here!
Who is This Product For?
Stryker SR 497HPC is a professional-grade CB radio that comes at a fairly decent price. Of course, this doesn't mean that this product is cheap. On the contrary, you will have to spend a couple hundred dollars if you wanna get it. Still, compared to other CB radios of similar performances, Stryker SR 497HPC is a pretty affordable choice.
What this means is that if you're an amateur or a newbie who doesn't have the need to use CB radios on a regular basis, it's best if you stayed away from it. But, if you're a professional looking for a reliable device, I think you shouldn't look further than Stryker SR 497HPC.
Key Features and Benefits of the Product
7-color LED face plate – This feature allows you to choose the color that suits you the best.  You can switch them easily in order to match the light conditions.
Multiple step dimmer – Here's another feature that lets you set how bright the display is gonna be.
Power control – This feature is super-important if you're planning to use an external device. It enables you to adjust the carrier anywhere in the range between one to 25 watts.
Digital echo – Stryker SR 497HPC is capable of reproducing the human voice with zero distortions thanks to this feature.
High-power final transistor – This CBB radio uses four transistors (IRF-520 MOSFET) which in turn provide the user with more than 90 watts of PEP. This makes Stryker SR 497HPC one of the most powerful CB radios on the current market.
Customer Reviews
The fact is that Stryker SR 497HPC is one of the customers' favorites. In fact, if you check its reviews on Amazon, a big majority of them are extremely positive.
In fact, the only thing that the users are complaining about is that there's no warranty that covers all parts of the radio. So, if something serious goes wrong with it, you might end up needing to pay someone to get it fixed.
More review!
Frequently Asked Questions
Final Word
Saying that Stryker SR 497HPC is one of the best CB radios you can find at the moment is not an overstatement.  This device is very powerful, super-easy to use, and extremely reliable. In fact, Stryker SR 497HPC is everything a good CB radio needs to be. On top of everything, even its price is not too high.
Check it out here!
Stryker SR 497HPC (As Recommended By Experts)
FEATURES

COMPATIBILITY

EASE OF USE

VALUE