Disclosure: As an Amazon Associate I earn from qualifying purchases. This means that at no cost to you, we may earn a small commission for qualifying purchases.
With so many options to choose from, it is not surprising that choosing the best walkie talkies for kids is very confusing.
In the last few years, walkie talkies that are specially tailored for kids had undergone a huge transformation, from being a bulky item to a powerful, sleek, and slender one.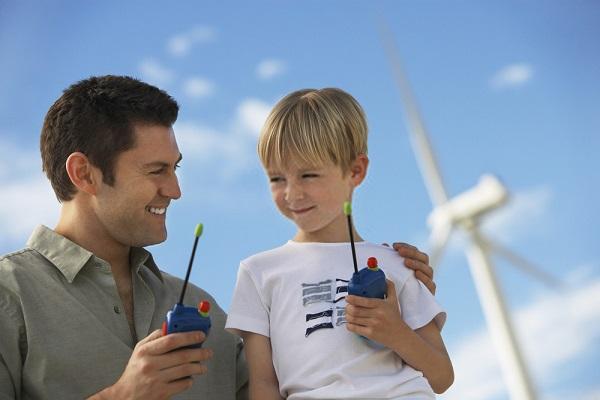 Further, when buying such a device, there are lots of factors that you need to consider to ensure that you're getting the best product possible.
You may like: Best Long Range Walkie Talkies: Reviews And Top Picks of 2019
Are you currently in the market for the best walkie talkie for children? If yes, below are the top 5 walkie talkies that you can buy for your kids. Also, don't forget to check the buying guide so that you will be able to choose the right one with ease.
Kids Walkie Talkies Comparison Table
| Product Name | Range | Weight | Numb of Channels | Check Price |
| --- | --- | --- | --- | --- |
| Retevis RT628 Kids Walkie Talkies | 1.5 miles | 3.52 ounces | 22 | |
| FAYOGOO Kids Walkie Talkies | 4 miles | 2.24 ounces | 22 | |
| Retevis RT-388 Kids Walkie Talkies Rechargeable | 1.5 miles | 12 ounces | 22 | |
| KOMVOX Walkie Talkies for Kids USB Chargeable | 3 miles | 5 ounces | 3 | |
| Kidzlane Durable Walkie Talkies for Girls | 2 miles | 7.2 ounces | 3 | |
Top 5 Best Walkie Talkies for Kids
Retevis RT628: Best Overall Walkie Talkie for Kids
When buying a walkie for your child, the most important thing you will need to keep in mind is the ease of use. Fortunately, the Retevis RT628 covers this with no problem. As a matter of fact, this is the main reason why it is considered the best overall walkie talkie for kids.
Retevis RT628 is light and small so younger kids will carry them around with ease. This device is powered with three double-A batteries and has a light-up LCD screen with a battery level indicator.
The RT628 has a maximum range of 1.5 miles that is perfect in ideal conditions. However, it will considerably drop off in places that have plenty of buildings.
When it comes to the looks, this walkie talkie is really fantastic. It will perfectly fit in hand. What's more, it comes with a big push-to-talk button, while its control scheme is simple for a kid to hold. It also has a VOX function that offers hands-free operation.
Pros
Easy to use.
It has a VOX function.
Fantastic ergonomics.
Cons
The instruction manual is written poorly.
Removing the battery cover is pretty difficult.
Check on Amazon!
FAYAGOO Kids Walkie Talkies: Best for Long Range
This walkie is designed with children in mind. The FAYAGOO walkie talkie sports a camouflage design that has modern-based controls and an LDC illuminated LCD screen.
Moreover, this device has a maximum range of 4 miles and comes with an inbuilt flashlight. It is also fall-resistant and has a durable construction.
Another good thing about this walkie talkie is that it comes with advanced features such as headphone support, external mic, VOX hands-free calling, and custom call tones.
This walkie talkie, on the other hand, is powered with three triple-A batteries that are included in the box.
One drawback of FAYAGOO walkie talkie is that it is quite expensive, however, its overall build quality, kid-friendly design, versatility, and advanced features are enough to validate its high cost.
Pros
Kid-friendly design
Durable
Versatile
Comes with a number of advanced features
Cons
It is quite expensive.
The batteries take too long to charge.
Check on Amazon!
Retevis RT 338 Kid's Walkie Talkie: Best Rechargeable
Batteries are pretty expensive and some of them do not have a long life. So if you're tired of buying batteries for the walkie talkie of your child, consider buying a rechargeable one.
The Retevis RT 338 is the best rechargeable walkie talkie for kids. This device comes with a plug, charging cable, and rechargeable battery.
Moreover, this walkie talkie has a keypad that helps in preventing preset settings from being changed accidentally. There is also a backlit LCD screen making this walkie talkie easier to use even if your child is in a dark place. In fact, it also has an inbuilt flashlight.
On the other hand, the RT-338 is made with kids in mind and designed to resists accidental falls or drops.
With this item, your child will be able to choose from ten different call tones and it can be utilized in a hands-free mode. Also, it is equipped for headphone use.
The RT-388 comes with a belt clip. Finally, the manufacturer provides a 3-month warranty as well as a one-month warranty, no question asked return policy.
Pros
Fully rechargeable.
Backed with a manufacturer's warranty.
Comes with rechargeable batteries and charger.
Cons
It is quite difficult for younger kids to use.
Check on Amazon!
KOMVOX Walkie Talkies: Best for Talkative Kids
Are you looking for a walkie talkie that can withstand accidents as well as toddler tantrums? If yes, then the KOMVOX walkie talkie can be a good option.
Despite the fact that it is made for young kids, this walkie talkie has a decent range of 3 miles. That being said, your child will never have a hard time using it in the backyard or from room to room.
This walkie talkie is colored vibrantly thus your child will be able to find it with even in overflowing toy boxes.
When it comes to the antenna, it's designed to be sturdy as well as fully sealed off in a protective external covering.
Moreover, it has minimal buttons and is very easy to use. One more thing, this walkie talkie is equipped with a CTCSS system. This system works to keep your children safe at all times.
Similar to other devices in this list, the KOMVOX walkie talkie has 3 channels making it ideal for younger kids. In addition to that, it is powered with three triple-A batteries that will last for 3 ½ hours of continuous use. Lastly, it has a great sound quality.
Pros
Sports a great design.
Its small-sized perfectly fits for little hands.
Superb sound quality.
Long range.
Cons
Not as sturdy as other walkie talkies.
This device doesn't have a charging option. Meaning to say, you need to replace the batteries from time to time.
Check on Amazon!
Kidzlane Durable Walkie Talkie: Best Budget Walkie Talkie for Kids
The Kidzlane durable walkie talkie sports and ergonomic design making it easier to use. It has a two-mile range and three separate channels that your child can utilize for communicating with other people.
Kids can use this device continuously for 3.5 hours and more than 9 hours on standby mode. This product features LED indicators and a belt that your child can use to transport the walkie talkie with ease.
Control-wise, this device is as simple as it gets. As a matter of fact, there is just a single push-to-talk button.
Also, it is built with durability in mind so you are certain that it will last for a long period of time. It is also backed with a 12-month warranty. When it comes to sound quality, this device gives off crystal and clear sound.
Finally, the Kidzlane Walkie Talkie is powered with three triple-A batteries.
Pros
Backed with a 12-month warranty.
Ergonomic design.
Great sound quality.
3 separate channels that simple to switch.
Programming is not necessary.
Cons
Can't be turned off automatically.
Check on Amazon!
Buying Guide: Things to Consider When Buying A Walkie Talkie for Kids
Below are the most important things that must be taken into consideration when buying a walkie talkie for your children.
Ease of Use
Depending on your child's age, obviously, you want to skip the items that are very complicated to use. Keep in mind that the simpler design the better. Actually, most walkie talkies that sport such designs are easy to use.
Frequency
A walkie utilizes either UTH (ultra-high frequency) or VHF (very high frequency). The first option has shorter waves that are capable of penetrating over walls, while the latter is ideal for open and wide spaces since the frequency tends to be loose and longer.
Bear in mind that these two frequencies aren't compatible. Thus, if you are buying two or more walkie talkies make sure they are in the same frequency.
Battery
Walkie talkies are both battery-operated and rechargeable. But the first one is more expensive because you will need to change the batteries often.
However, if your child will use the device constantly, it is best that you opt for a rechargeable one. Battery-operated, on the other hand, ideal for kids who will only use the device during emergency situations.
Channels
Walkie talkies have lots of channels. The more channels a device has, the lesser the chance of your frequency being interrupted by other walkie talkies that are within the area. But keep in mind that, more channels mean costlier.
Distance/Range
When a manufacturer describes the range of its walkie talkie, arguably, it would state the farthest distance the unit would work with no obstructions.
So, if a device has a range of 7 miles, you can expect it to work with no problem within three to four miles.
Location
When buying a walkie talkie considering your location is very important. If your place has lots of walls, consider a walkie talkie that uses UHF frequency.
Durability
Since you're buying a walkie talkie for kids, it is very important that you opt for a durable model. As a matter of fact, having a tough and durable design can be a lifesaver.
Conclusion:
Walkie talkies for kids work just like for adults except that they have a shorter range and easier to use. Some of them are made with toddlers in mind and allow your kids to talk with other people by simply pressing a button.
Nevertheless, all the products mentioned here can be a great option. But make sure to choose the model that suits your child's needs and allow him/her a sense of freedom as well as an adventure while keeping him/her safe. Hopefully, by this time you have already decided which one you should get.
Best Kids' Walkie Talkies
FEATURES

COMPATIBILITY

EASE OF USE

VALUE