Disclosure: As an Amazon Associate I earn from qualifying purchases. This means that at no cost to you, we may earn a small commission for qualifying purchases.
If you are shopping for a CB Radio, you will come across this Galaxy DX 959 CB Radio as the most popular, and the best full-sized SSB radio on the market.
But, what exactly makes this CB radio special? Which features make this the go-to CB radio and not any other radio?
Well, with this review, I aim to answer all your questions. I understand that you wouldn't wish to buy a CB radio that is complex to use, incompatible with your car, or one without signal strength features to connect you to all the 40 channels of the CB radios, right?
Galaxy DX 959 Product overview
This is a heavy-duty, multi-mode, and a multi-featured SSB CB radio that is easy to use, day or night, whether you are experienced or an amateur.  Other than the SSB capabilities, it has an advanced PA system.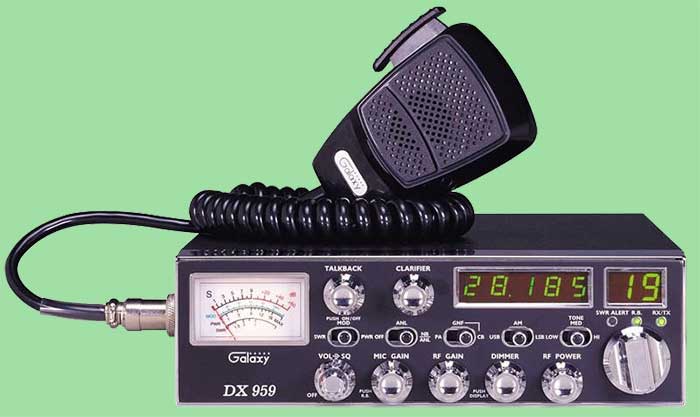 This CB radio is a product of Galaxy Radios.
Pros
It has a long range which gets better in skip conditions, and the reception is excellent.
Advanced PA system.
An inbuilt meter with scaling.
It is illuminated for easy display of functions, and it is easy to use.
High-quality voice clarity.
Cons
Using the SSB needs some warning up time.
It is considerably large compared to other CB radios, taking up a lot of space.
The knobs may feel flimsy.
Check it out here!
Who is this product for?
This CB radio is suitable for use by professional heavy-duty drivers. This is because of the radio's long range, the SSB capacity, the large five-digit display, plus the full size.
Key Features and benefits
Ease of use
This CB radio boasts a large and an easy-to-read scaled meter for the display of the power output, SWR, incoming signals, and modulation. It also features calibrations for SSB and AM. The signal strength scale a high of 60dB over the S9.
The design of this radio is appreciated by CB radio masters, as well as amateurs who become masters of the radio pretty fast.
All the radio functions have a drive-friendly format which is essential for the use of the radio while keeping your eyes on the road.
The controls are in the form of knobs or buttons, and they all have specific tasks. As a result, you don't have to look at the display to check if you selected the correct function. You don't have to cycle through the displays either.
You will also like the Roger Bleep which has an ON and OFF mic gain knob added at the end of transmission for you to know when you have finished talking.
SWR Switch
This built-in SWR meter saves you the trouble of having to set and tune the antenna every time.
This CB radio has an SWR scale with a five-digit-frequency counter which has an ON and OFF Switch Automatic SWR Circuit. Its calibration procedure is simple.
It also features a high SWR Alert Circuit that comes with a warning LED TalkBack circuit. The circuit has an ON and OFF Switch plus power and volume control variables.
LED lighting
In the darkness, you won't have to fumble through the knobs thanks to the bright display on the frequency display counter. The five-digit frequency (large) and the two-digit channel (larger) displays are in yellow.
There is variable dimmer control that has a push switch which turns off the meter lamp to adjust the brightness of the display.
The red and green indicators are for the RF Receive (RX/TX), and you need them to receive transmissions your way.
Voice quality
There is a three-position tone switch for setting the tone to high, low, or medium. The tone switch is also helpful when there is static.
This CB also features the proprietary Galaxy Noise Filter (GNF) Circuit that reduces noise, facilitating the recovery of weak signals. It also limits the high-frequency noises
There is a mic jack clarifier control for tuning of stations on SSB.
You also have a noise blanker for voice clarity.
The automated noise limiter cuts off electric and static noise
Volume or squelch control the volume
Review on Amazon
Use as a PA system
To increase the functionality of this galaxy CB radio 959, there is a gain control and Mic gain for controlling the volume of the mic. The rear jacks are for connecting with the external speaker as well as the public address system.
RF Power
This helps you control the power output
Modulation
When in use, you can modulate it easily.
It's an established brand
This Galaxy DX 959 CB radio has more than 15 years of solid performance. It is one of the best in the mobile line of radios. As a multi-feature CB radio, it is every trucker's dream CB radio.
Customer Reviews
Additional Information
This radio is affordable, and it comes with a two-year warranty.
It has a switch for AM the upper sideband and a low sideband
It comes with a mounting bracket
Verdict
Through my experience with this CB radio and the experiences of others, it is clear that this is a remarkable, high-performance CB radio. Galaxy DX 959 has excellent, high-quality, and user-friendly features. It is one of the CB radios on the list of top-selling CB radios and going by the features of the radio, getting this CB radio is a great choice; it will meet all your needs.
Check it out here!